Thank you for participating in VLSI-SoC 2020 virtual conference.
In VLSI-SoC 2020 Virtual conference, each session will be a pre-recorded video followed by a live chat discussion with the attendees. Every presenter must present online for the entire time of the scheduled session and needed to participate in the live chat discussion. The presentation submission will be in form of a Youtube Link. Please follow the presentation guidelines, and best practices to prepare your video presentation given below. The communicating author will receive an email to share their YouTube link with the VLSI SoC team.
Paper Presentation
Each presentation will consist of 15 prerecorded video (over zoom, screen shared by the session chair) followed by 5 min of Q&A session
The paper presenters should attend the session, and identify themselves during the presentation by replying ("I am presenting this paper") in zoom Chatbox so that during the Q&A, the Session chair can  give you presenters rights
Ph.D. Forum Presentation
Each Ph.D. Forum presentation will consist of 3min (pre-recorded video) + open discussion over zoom.
Poster Presentation
The session chair will allow each speaker to present his poster, followed by a common Q&A session.
One to one discussion can be taken offline
Step by Step process of uploading presentation videos
Step 1: Go to the Youtube website; if you don't have a Gmail/Google account that has been already signed in, you will see "SIGN IN" sign at the top right (see below)

Step 2: After you signed in your Gmail/Google account, click the "YouTube Studio" link embedded in instruction-1.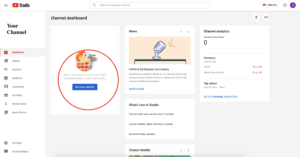 Step 3 (Optional): Or, click the "CREATE" button at the right top of your YouTube Studio home page, and click "Upload"

Changing the privacy settings
The presenter can choose the privacy settings (either Unlisted or Public) for there presentation videos.
Sign in to YouTube Studio.
From the left menu, select Videos.
Hover over the video you'd like to update. To see your live uploads, select the Live tab.
Click the down arrow under "Visibility" and choose Public, Private, or Unlisted.
Save.
Explanations of different settings can be found in the table below.

We have abandoned the copyright form method for technical reasons
The communicating/first author will be receiving an email containing new instructions on copyright transfer. The rest of the instructions for preparing and uploading your camera-ready version shall stay as given here. The conference ID is 46417X.
Thank you for submitting to VLSI-SOC 2020.